Document information
| | |
| --- | --- |
| Document ID: | 4601 |
| Subject: | Temporary filters to block junk/spam messages |
| Creation date: | 12/14/15 4:35 PM |
| Last modified on: | 1/3/19 3:28 PM |
Temporary filters
Content filters can be added on a temporary basis. Temporary filters disable themselves after a certain number of days. Such filters are useful if you get a particular email from someone containing a very innocent message and want to block it. Since the message contains innocent language, it is important to disable the rule once the attack is over.
Consider the following email as an example:
From:
someone@somewhere.com
To:
you@YourCompany.com
Subject:
An invoice for your purchase - invoice # 34566
Attachment:
YourInvoice.zip
Body
Attached is an invoice for your recent purchase. Please pay the invoice in full to avoid any late fees.

The attached invoice contains a description and date of your purchases. Feel free to contact us for any questions you may have.

The above example contains an attachment which may contain a virus or document instructing you to provide your credit card number on a website.
You decide to block every email containing an attachment
YourInvoice.zip
. However, since this name is innocent it is recommended that you add a rule and disable it later on.
How to add a temporary rule
Any content rule can be made temporary by specifying a value for
Expire After
field. Refer to the image below.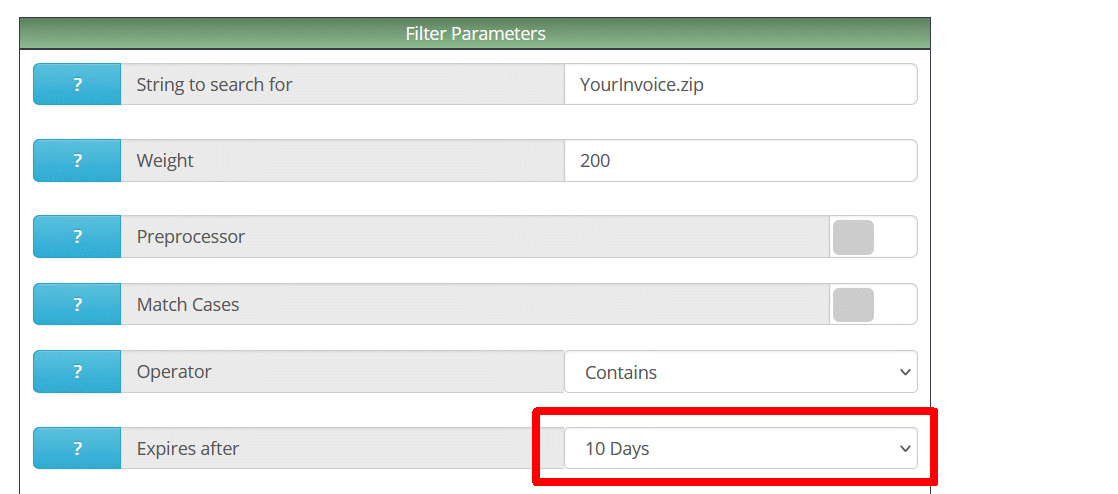 Add a comment to this document
Do you have a helpful tip related to this document that you'd like to share with other users? Please add it below. Your name and tip will appear at the end of the document text.