Document information
| | |
| --- | --- |
| Document ID: | 4598 |
| Subject: | Handling multiple profiles in Xeams |
| Creation date: | 12/14/15 4:35 PM |
| Last modified on: | 12/14/15 4:35 PM |
Handling multiple profiles in Xeams
The
multi-profile
feature in Xeams allows you to:
Specify separate spam filtering rules for a set of domains. In other words you create a new profile.

Delegate administrative tasks for a certain domain(s) to someone else
Consider the following scenario. You handle emails for two or more companies. The domain name for these companies are:
CompanyOne.com
and
CompanyTwo.com
. Using the multi-profile option you can specify different rules for both of these companies and assign a person in these companies who will manage their rules.
IMPORTANT:
You must be using build number 5628 or higher in Xeams to use this feature.
Steps to enable this feature
Log in to Admin Console
Click

Server Configuration

on the main menu
Click the

Advanced Configuration

tab.
Check

Multi-Domain

box
When this feature is enable, you will see a new menu item under the
Home
link. Refer to the image below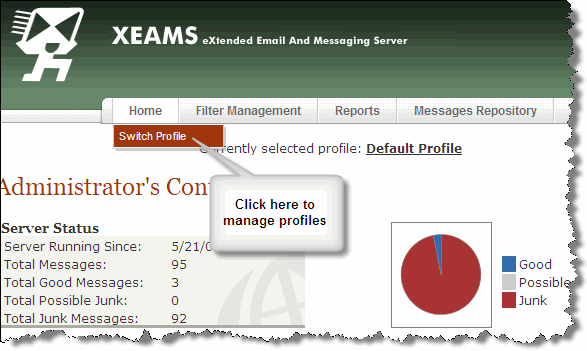 Creating new profiles
Follow the steps below to create a new profile. You can create as many profiles as required.
Click

Switch Profile

item under the

Home

link on the main menu
Click

Add New Profile

link
Refer to the help on the page to understand what each field mean

Scalability issues
We do not recommend creating more than 5 profiles per Xeams server. Every profile in Xeams will increase the memory usage by about 100MB and therefore, creating too many profiles will cause your Xeams to run out of memory, particularly on a 32bit system.
If you decide to have more than 5 profiles, keep an eye on memory usage and increase the upper limit if the allocated memory hovers continuously near maximum memory.
User comments
Posted by T on 9/16/16 5:49 PM
Quando você cria novos perfis que LiveLog aparece nos perfis de todos os domínios. você pode transformar isso e reservado exclusivamente para administrador?
Posted by MSS on 9/2/16 1:47 PM
Yes you can turn that off, it's hidden in the NewPageHeader.jsp there are options for who has what at what security level. Super User Admin Regular
Posted by Michael Bannister on 4/11/16 9:12 AM
Hi all just wondering if its possible to have a profiles setup with multiple domains. eg having the sender string domain1.com.au and/or domain2.com.au if anyone has any ideas if this is possible could you let me know thanks forums
Posted by Uwe on 6/1/16 6:38 AM
When you create new profiles that LiveLog appears in the profiles of all domains . Can you turn this and reserved exclusively for Admin ?
Add a comment to this document
Do you have a helpful tip related to this document that you'd like to share with other users? Please add it below. Your name and tip will appear at the end of the document text.